Workshop Hoist Cantilever Swing Arm Jib Crane with hoist
1.Jib Crane Description
Jib Crane is a kind of light crane using with PK type electric chain hoist or CD, MD electric hoist. It consists of the column, the rotating arm, the cantileverdrive unit and hoists. The lower end of the column is fixed by anchor bolts in the concrete foundation. The boom slewing is driven by motor driving the reducer. The hoist runs back and forth on the cantilever beam.
Jib Crane has advantages of simple structure, easy operation, small space using, large working range. It is widely used in lifting materials in production lines of machinery manufacturing, automotive making and shipbuilding. It is being used in warehouses, docks, laboratories and other occasions. It is a ideal lifting equipment for the enterprises to improve efficiency and working conditions.
Jib Cranes are light and intermediate working level, rated workload has 0.25t, 0.5t, 1t, 2t, 3t, 5t with total six specifications. According to job specifications need the users can choose different types of cranes, lifting speed and running speed. The machine has two forms of manipulation: motor-driven rotation and manual rotation. The rotation angle of the rotating arm needs to be selected according to the use of premises such as 180 °, 270 °, 345 °, 360 °.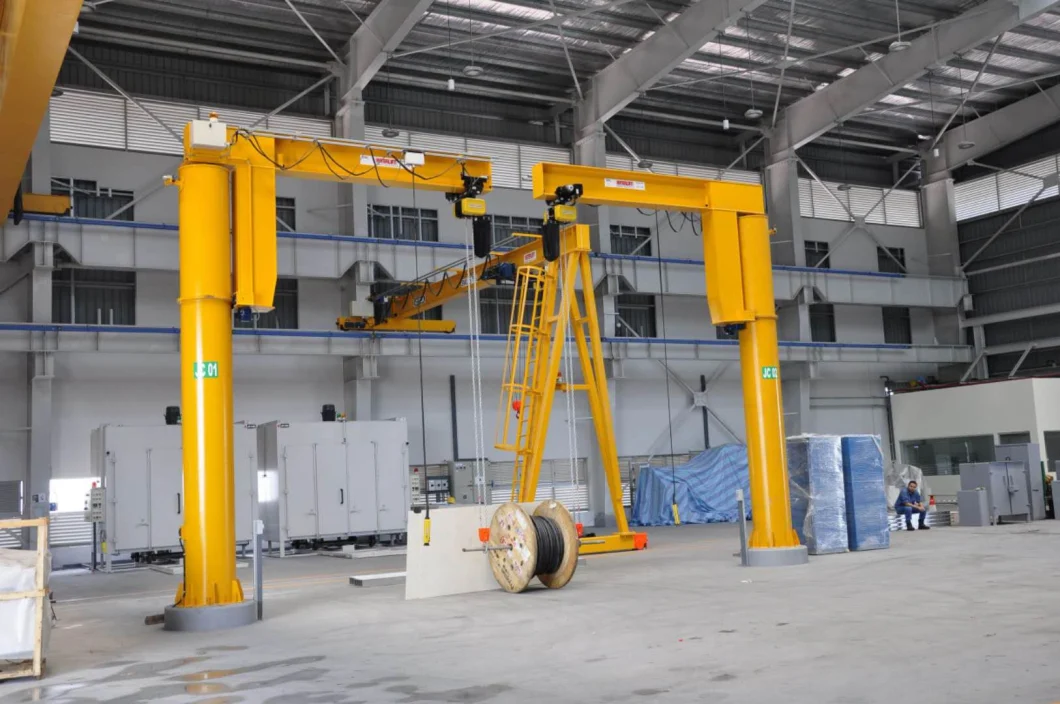 | | | | | | | | |
| --- | --- | --- | --- | --- | --- | --- | --- |
| Type | Capacity(t) | Rotation angle(ºC) | L(mm) | R1(mm) | R2(mm) | H(mm) | h(mm) |
| JIB 0.25 | 0.25 | 360 | 4300 | 1100 | 4000 | 3800 | 3000 |
| JIB 0.5 | 0.5 | 360 | 4300 | 1100 | 4000 | 3900 | 3000 |
| JIB 1 | 1 | 360 | 4400 | 1100 | 4000 | 4200 | 3000 |
| JIB 2 | 2 | 360 | 4400 | 1100 | 4000 | 4200 | 3000 |
| JIB 3 | 3 | 360 | 4500 | 1500 | 4000 | 4500 | 3000 |
| JIB 5 | 5 | 360 | 4500 | 1700 | 4000 | 4800 | 3000 |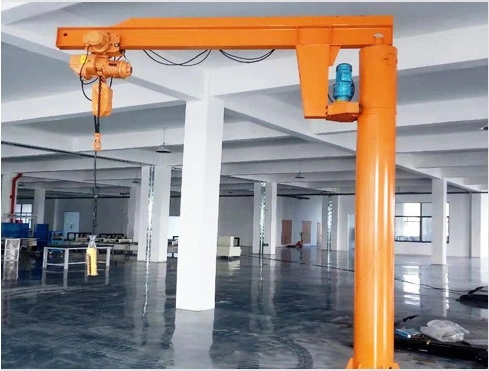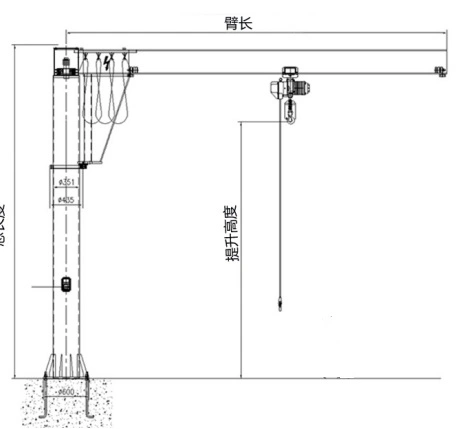 Features:
1.it is used for lifting 0.5t~5t stuff;
2.It has beautiful box-typed welded main girders. Computer optimized design for main girders with good performance and light weight;
3.Compact structure, light weight and high lifting height;
4.It's widely used in workshops, metallurgy, warehouses and assembly shops etc.
Mechanism:
1. box-type shaped by wielding;
2. High quality carbon steel Q235B and Q345B;
3. the girder connected by high strength screws;
4. Welding seams are tested by X-ray and ultrasound;
5. Forged wheels;
6. Compact structure, small volume and light weight trolley;
7. Lifting mechanism is open type winch trolley;
8. Compact reducer motor drive, step less control, hardened gears and safety disc brake;
9. Good operation performance, step less speed regulating and running smoothly;
10. Main girders Shot blasting sa2.5 after welding to release internal stresses;
11. Painting high quality epoxy zinc-rich primer, and the thickness of oil film is 140μm;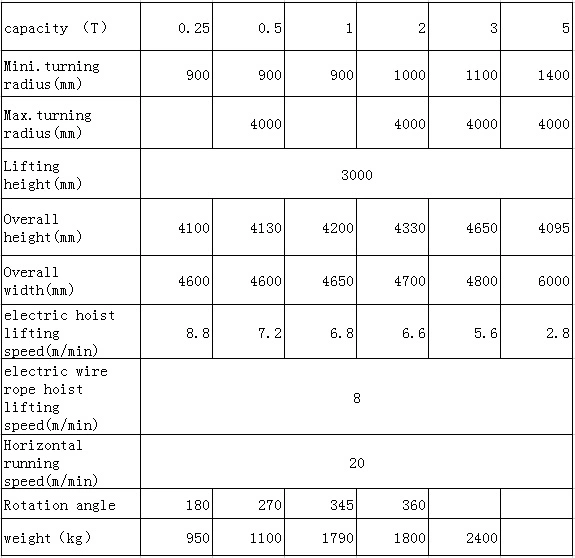 Electric System:
1. Power supply through step less slide lines;
2. Lifting mechanisms and traveling mechanisms are mutually independent and could travel at the same time;
3. Control panel protection degree is IP54;
4. Reasonable components installation, convenient for check and maintenance;
5. Electric cable is suspended in cable saddle, stationary cable trolley which slides on a galvanized C-type steel;
Safety Protection Devices:
Overload limiter, limit switch (lifting and traveling), interlocking protection devices, buffer, track sweep plate, shield, bus bar protection board, anti-collision device, main disconnecting switch, emergency stop system and motor overload protection.


FAQ
1.Is your product customized?
Thanks for your question. Yes, because the working condition are different, all our products are customized dependingon detail requirement! So if you give us more information about the lift capacity, span, lift height, power source and other specials, we will give you a very quick quote!
2. What's the information should I provide when inquiry?
Thanks for your question. The more information you provide, the accurate solution we can prepare for you! The information such as the lift capacity, span, lift height, or other specials you give us will be more appreciated.
3. How many operating methods for my selection?
Thanks for your question. The standard operating methods we provide is pendent controller with push buttons. Meanwhile, we can also provide the remote control with push buttons and the cabin (space capsule seat) control with joystick. You can choose any of them, just tell us!
4.The space of my workshop is limited, can the crane ok for mine?
Thanks for your question. For low headroom workshop, we have the Special products. The detail dimension please consult our professional engineer.
5. What's the information should I provide when inquiry?
a. What's the lifting material?
b. How much is the maximum lifting weight of the hoist?
c. Have you installed the rails? Do you need us supply the rails? How long is it?
d. Where are the working environment?